October 21, 2014
SAVE THE DATE - SPECIAL EVENT
RSVP REQUIRED to Vicki Ellner
This email address is being protected from spambots. You need JavaScript enabled to view it.
AN EVENT NOT TO BE MISSED for ALL INTERESTED IN HOW ELDERS CAN SERVE AS EXPERTS ON HOW TO LIVE OUR LIVES
DATE
Tuesday, October 21, 2014
TIME
10 AM - 12:30 PM
(Brunch being served after speaker presentation)
LOCATION
Sephardic Nursing and Rehabilitation Center
2266 Cropsey Ave.
Brooklyn, NY
PROGRAM
"Advice for Living from the Oldest (and Wisest) Americans"
SPEAKER
Karl Pillemer, Ph.D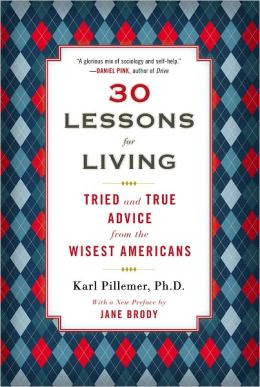 SUMMARY
Can our elders serve as "experts" on how to live our lives? To answer this question, Dr. Karl Pillemer, gerontologist and Professor of Human Development at Cornell University, decided to seek advice on how to live from the oldest Americans. In the Cornell Legacy Project, he surveyed over 1200 elders, asking them for their most important lessons for living – on topics like marriage, career, parenting, aging, regrets, happiness, and overcoming loss. In this talk, he highlights some of the key findings from the project, focusing on practical advice from the "Greatest Generation" for living a happier, healthier, and more fulfilling life.
Karl A. Pillemer, Ph.D. is a professor of Human Development at Cornell University and Professor of Gerontology at the Weill Cornell Medical College. An internationally renowned gerontologist, his research examines how people develop and change throughout their lives. He has authored five books and over 100 scientific publications, and speaks throughout the world on aging-related issues. In a recent set of studies, Dr. Pillemer decided to find out what older people know about life that the rest of us don't. This project led to the book: 30 Lessons for Living: Tried and True Advice from the Wisest Americans, published by Hudson Street Press/Penguin in 2011. His new book, 30 Lessons for Loving: Advice from the Wisest Americans on Love, Relationships, and Marriage, will be published on January 8, 2015.
MEMBERS - NO COST TO ATTEND
NON-MEMBERS - $25.00 Donation to SUN-B